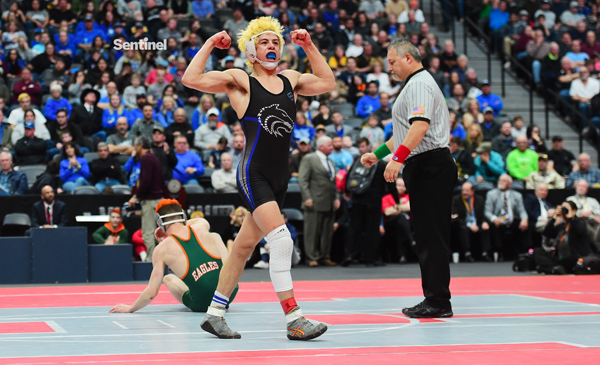 Exactly what Fabian Santillan heard from his longtime coach Ben Menzor Feb. 17 under the bright lights at Pepsi Center remains private, but it definitely included the words "you deserve this."
With Menzor, his wrestling father figure in his corner, the Grandview junior claimed a state championship that was 12 years in the making with a 4-1 win over Adams City's Nicholas Gonzales in the Class 5A 126-pound final.
Just before the match, Menzor gave Santillan a brief and poignant reminder of everything that led up to that moment.
"I let him stew and think about it a little bit and then when we were on the mat, I told him 'You deserve this, you worked hard and you deserve to be here,'" Menzor said. "'You cut no corners in life and you deserve to be here.
"You did it the right way.'"
If anybody knew about the years of hard work, it was Menzor, who got to know an eager Santillan back when he was 5 years old when he wanted to skip the beginners class and go right to the advanced group.
Though he wasn't a "natural" at the start, Santillan worked and worked and worked his way into the elite ranks of his sport.
He placed fourth at state as a freshman at 113 pounds and might have won last season's state championship at 120 pounds — where he was an All-American after winning the prestigious Reno Tournament of Champions — had a knee injury not ended his season early.
Santillan, who Grandview head coach Ryan Budd notes isn't satisfied with a practice until he "blows his lungs out," came back with a vengeance. Training with his sophomore brother Alex and senior Giovani Federico — who placed third in 5A at 113 and 120 pounds, respectively — Santillan was honed into a champion.
Sporting a striking new bleached blonde hairdo, he won his first three state matches with little difficulty, then set about planning to win the rubber match with Gonzales, who dealt him one of just four defeats on the season (in 48 decisions) when they met at the Arvada West Invitational.
"My mind has been in a good place this entire tournament, I was just excited," Santillan said. "Everything leads up this. Six minutes and your season could go any direction, but I was comfortable and excited. I had a game plan."
Determined to dominate position, Santillan did so from start to finish. He got the first takedown in the opening period and doubled his lead with a two-point reversal early in the second period.
Gonzales caught Santillan's leg a couple of times, but never gained control and scored just a single point on an escape in the third period.
"Everyone in wrestling has a gift and mine is knowing where my body is at all times (on the mat)," Santillan said. "I'm really comfortable in dangerous situations. I can be on my back the entire time, but as long as I'm not giving up points, I'm comfortable."
Every coach in a final is on the edge of his seat, but Menzor sat back knowing that Santillan had the steely demeanor and physical tools to overcome anything he might face.
"Fabs is such an amazing scrambler, you can get to his legs, but finishing on him is almost impossible," Menzor said. "I think he's only given up two takedowns all year. He just has such natural hip and body position and he scrambles so well.
"And he's always composed. There's been ice in his veins since he was little. He's never been too high or too low, he's just always level."
When the match was over and he had become the sixth state champion in program history — joining Gabe Baumgartner (285) last year, Eric Wilson (112) and Cody Gilmore (285) in 2008 and Jon Brascetta (145) and Curtis McNary (152) in 2006 — Santillan finally let out some emotion.
He popped up from mat with a quick flex for the crowd, shook Gonzales' hand and had his hand raised by the referee. It was all a formality to his leap into the arms of a beaming Menzor.
"He's been nothing less than a father figure for me my entire life," Santillan said about Menzor. "I love him to death and he just means the world to me, so I wanted to make him proud."
In the back hallway of Pepsi Center, he shared the triumph with other Grandview coaches, administrators and his teammates, including fellow placers in his brother, plus Federico, Dylan Ranieri (fifth at 145 pounds) and Joe Renner (fourth at 195 pounds) from a team that set the school record with 98 points to finish sixth.
"He's the hardest working person I know," Alex Santillan said of his brother. "His work ethic is on the next level and he deserved it."
Budd coached so many matches over three days that his voice was strained, but he used what he had left to detail how proud he was of Santillan on the mat, in the classroom and in his other pursuits such as playing a musical instrument.
"Fabian is an amazing student, an amazing person and he does all sorts of things people don't know about," Budd said. "He's one of those kids where even if you don't know him, you want to root for him. That's the nicest thing about him, he's a better human being than he is a wrestler. He's a really, really good wrestler, so that's saying a lot."
While last season's injury prevented his deep-seeded desire to be a three-time state champion, Santillan has a chance to be the first repeat winner for Grandview's tradition-laden program.
Four of the Wolves' previous state champions won state titles in their senior seasons, while Wilson won as a junior and lost in the final as a senior.
"I've got to just keep pushing, don't let anyone catch up," Santillan said. "It's good to have a target on my back, it will make me a better wrestler."
Courtney Oakes is Aurora Sentinel Sports Editor. Reach him at 303-750-7555 or sports@aurorasentinel.com. Twitter: @aurorasports. FB: Aurora Prep Sentinel